Learning & Resource Center
This is the place for Nova Power videos, training guides, FAQ's, and other resources.
Watch Our Latest Videos, Read a Blog Post, Or Download Our Datasheets and White Papers.
Watch our webinar on Nova Power Cloud Solutions
NovaVue 4.0 Release Notes
This short video introduces NovaVUE and Nova Power Cloud Solutions
Download our Nova Power Cloud Solutions Data Sheet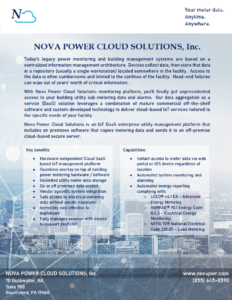 5 Facts about our NovaVUE EPMS Solution
White Paper: Using IIoT to Enhance Building Automation Systems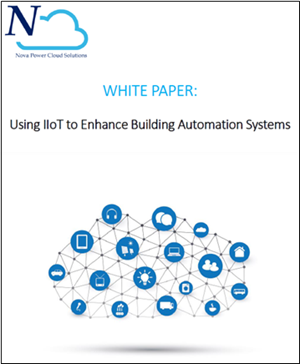 Our short NovaVUE Explainer Video
Frequently Asked Questions
What devices / protocols does NovaVue support?
We are vendor and protocol agnostic – meaning we can support any vendor device and any way of extracting the data. We have proven integration with all of the major OEM's like: Eaton, Schneider, SEL, EIG, Solectria, Moxa, Russ Electric, Honeywell, and many more.
What industries or verticals does NovaVue support?
We focus on delivering advanced data aggregation as a service (DaaS) solutions to sites with critical infrastructure. That includes hospitals, Data Centers, Airports, multi-tenant buildings,Pharma / BioTech / Life Sceinces and more.
Can NovaVue show Power Quality Events?
Yes, we can download and display event (waveform) captures from any meter.  We decode all of the standard formats like COMTRADE, PQDiff, and proprietary formats.
Can NovaVue control my systems?
No, we do not offer control for systems. We focus on the data collection and reporting aspect of EPMS and BAS. NovaVue cannot make changes or "control" any systems.
Do I need to replace what I already have?
Absolutely not!  We run as an overlay to your existing infrastructure and meters.  You keep what you have, we will work with it to get our the data you want and stream it to the cloud for access from a browser or Apple device.
Can NovaVue email or text alarms out?
Yes!  We offer completely customizable alarm and event threshold setup.  Once an alarm is triggered a user can be notified via on-screen, email and/or sms text.
Contact NPCS For More Information
Office
70 Buckwalter Rd Suite 900
Royersford, PA 19468
Hours
M-F: 8am – 6pm
S-S: Closed